Visiting Assistant Professor of Dramatic Arts and guest director (1989 – 2004).
Drama Department Chair (2001 – 2004).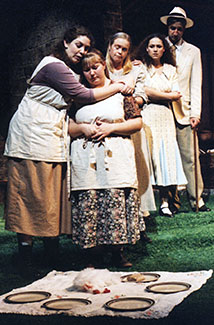 Set in 1930's Ireland, the play depicts an era at a crossroads between old traditions and new social and political change. It chronicles the breakup of a home and the end of innocence.
Directed by John Fisher, Commissioned by Gemma Whelan
Christmas Carol: The Musical
Directed by John Fisher, Commissioned by Gemma Whelan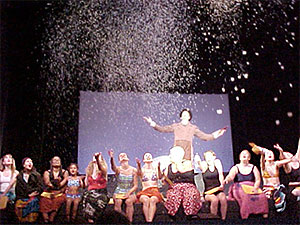 Written especially for Mills, this version of the play is adapted to a new setting—a mythical women's college in the East Bay.
by Kathleen Turco-Lyon and Randall Stuart
Directed by Randall Stuart, Produced by Gemma Whelan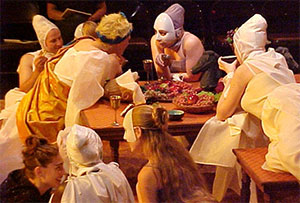 In this adaptation of Shakespeare's Timon of Athens, a fusion of styles rattles the boards when the ancient world and present day merge to illuminate the fall of the benefactor Lady Timon. Or is this fall Timon's self-determined tumble from grace?
A bittersweet tale of a fisherman living on a remote island who has fallen in love with a woman he has glimpsed only once. The reaching out and fierce withdrawal of two people whose lives simply cannot be fused.
Explores the root causes of the hysteria that led to the witch-hunts in England in 17th century. It shows how the poor, the widowed, the disenfranchised, and those on the fringes of society were used as scapegoats in times of uncertainty and distress.
Takes place over a series of Saturdays in a hair salon in Louisiana where the same six women convene. It's a place where everybody gets their hair done and catches up on all the small town gossip — a place where they can feel unconditionally safe, and humor is a tool to get them through the hard times.
Set in a girls' boarding school, an angry student runs away, and to avoid being sent back, tells her grandmother that the two headmistresses are having an affair. The accusation destroys the women's careers and lives.